---
Personalised Dinosaur Print | Custom Canvas or Poster | Kids T-Rex Jurassic Gift | Perfect For Jurassic Park or Jurassic World Fans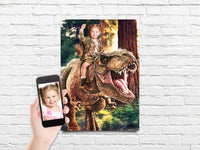 A fantastic Tyrannosaurus Rex print - Available as poster or canvas, in a variety of wallart sizes. 
Don't let him scare you, our T-Rex is as friendly as they come! Personalise this dinosaur print with your child's photo. Perfect for those Jurassic Park / Jurassic World fans, or if your little ones are fanatical about these lovable prehistoric lizards!
The poster prints arrive rolled up in a tube ready for you to place in your own frame, and the canvas prints are wrapped around a pine frame, ready to hang on the wall.
Once you have ordered we'll create a preview of the print using your photo, which you can view before printing. Please read our tips for photos to ensure you have the best possible print.
Tips for photos
It's preferable to use a large, clear photo for this print to make it easier to blend the photo with the Spider-Man print, and also to minimise any blurriness or pixelation. If you are taking a photo specifically for this print, try to photograph the subject against a light plain background.
► Try to find the original photo instead of a screenshot of the photo.
► Take a clear, well lit photo of the subject facing directly toward the camera.
► Make sure all of the subject's head & face are visible in the photo, with some space visible all around the subjects head.
► When uploading your photo, your device may give you several options for the size of the photo to send - choose 'original size' or 'actual size'.
► If in doubt, please do not hesitate to ask :)
Canvas Poster sizes..
Poster prints
We use premium quality satin photo paper for professional wall art prints at 235 GSM.
Posters are printed to the size stated, with no white border.
Will arrive rolled in a poster tube ready for sticking to the wall or framing.
Poster sizes - A4 = 21x30 cm |  A3 = 30x42 cm | A2 = 42x59 cm | A1 = 59x84 cm | A0 = 84 x 119 cm
Canvas wall prints
Printed on high quality canvas using genuine HP inks.
The canvas photo print is then lacquered to protect from UV, dust & scratches. (Protection lasts 75 - 100 years!)
Finally, the custom canvas prints are stretched across a handmade pine frame, which arrives ready to hang on the wall.