---
Love You Mum From Your Little Shits | Personalised Coffee Mug | Your Names Printed | Novelty Mother's Day Gift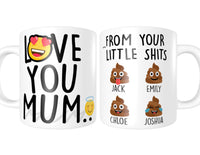 Personalise this mum novelty mug with one or more names. A unique made-to-order funny/cheeky gift for mum!

We'll also send you a preview before printing.

• Dishwasher safe.
• Microwave safe.
• Each mug comes in its own gift box.

Personalise this mug with the names you would like when ordering, and we'll create a preview for you to view before printing.

The mugs are 11oz (312 grams) white ceramic.

Each order is for a single mug only (unless multiples are ordered). The 2 mugs used in the same product image are to demonstrate how the graphic wraps a mug.